Pioneering the High Plains & Mittagundi Bush Festival Packhorse Adventure (Full Itinerary)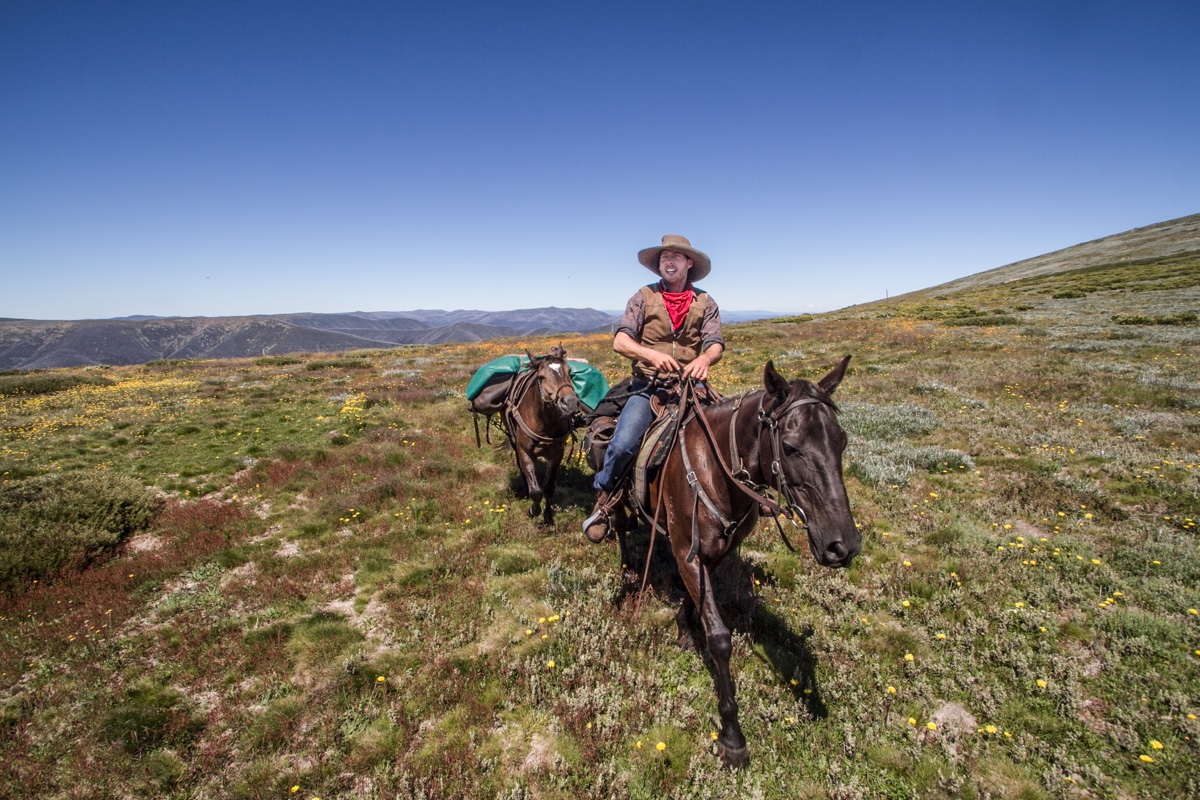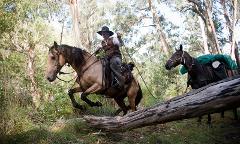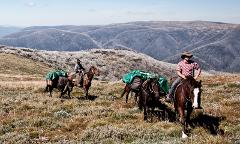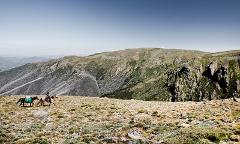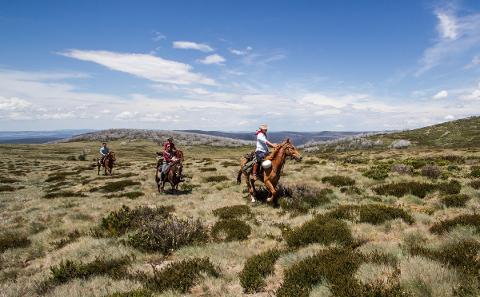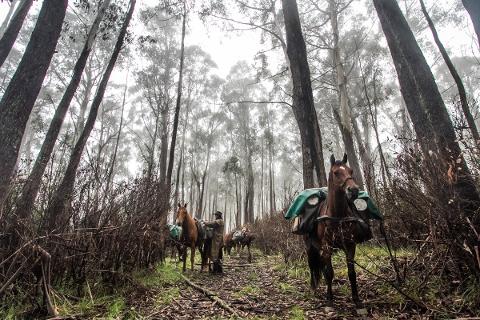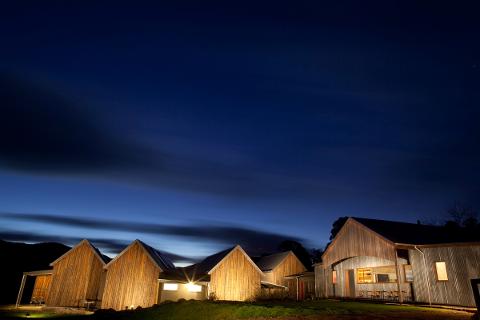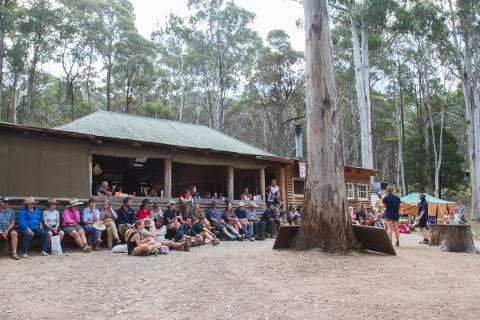 Duration: 9 Days (approx.)
Product code: PH7d
Pioneering the High Plains & Mittagundi Bush Festival Packhorse Adventure takes you on a journey, through diverse landscapes, along a route that highlights the vertical scale, and the rich cultural heritage of the Victorian High Country.
Starting in the rich fertile valley of the Kiewa River, the tracks climb gently through the ferny mountain forests to a pretty stream side camp. Next morning with a wisp of campfire smoke curling through the morning mists, the horses are prepared for a day of climbing into the high alps. Leaving behind the lush temperate rainforest the mighty woolly-butts stand tall over the our little horse team as it winds on, climbing eventually into the snow gum woodlands and finally the open herb fields of the High Plains. The blue ridges extend to the horizon, hazy with eucalyptus vapors across hundreds of kilometers. Beyond the dome of Mount Nelse is our sheltered camp at Cemetery Spur or perhaps Kelly's Camp. Over the following days the expedition continues to reveal new and different landscapes, along heritage tracks built on the hopes and dreams of gold miners and distant views of surrounding mountains. Mid tour we follow the spectacular Track 107 which was cut by the Mines Dept in the 1880's as access for prospectors into the remote and mysterious Glen Wills on the Big River reaches, below Mt Wills.
This year marks the 40th Anniversary of Mittagundi, a not for profit outdoor education centre established with the belief that young people, mountains, hard work and challenges are natural partners. Mittagundi is situated on a 400 acre property near the old gold mining town of Glen Valley, on the Upper Mitta Mitta River. The annual Mittagundi Bush Dance and Pioneer Skills Weekend is an opportunity to get involved in a traditional bush festivities weekend and pick up some long lost bush skills. This year is a tremendous milestone for the Mittagundi community, and Bogong Horseback Adventures commend the efforts of the volunteers and supporters that make this unique and inspiring place possible.
After our weekend at Mittagundi its time to get back into the bush for our ride up The Long Spur to our high camp on Mount Bogong, Victoria's highest mountain. With a seldom layover camp on Mt Bogong we take this opportunity to explore the beautiful natural splendour of this magnificent mountain. Riding out to horse ridge to visit Maddisons Memorial then an afternoon trip to the crisp cascades of Howmans Falls for a quick dip. On the last day climb to the highest place you can take a horse in Australia, and nestled in the valley far below is Spring Spur, your destination at day's end.
Bogong Horseback Adventures' pack horse expedition program commences annually in the late spring when the peaks of the Victorian High Country shake off their winter snows and alpine life starts to stir. For thousands of years the Aboriginal peoples of the surrounding country embarked on their annual migration to the High Plains, and until recently the mountain cattlemen, following their time honored ways pushed their cattle up to the 'tops'. Along with gold seekers, bushrangers and early adventurers, they all helped create a rich heritage, woven into the rugged fabric of the High Country. Much of the High Country remains un-roaded today, and packhorse expeditions offer a traditional and practical means of exploring this vast landscape. The horses are a feature of this expedition, each of them our own bred and trained mountain horse, expertly matched to the rider. Each day the camp is packed up, loaded onto the packhorses and the journey continues. Riding is between 15 to 25km per day with opportunities for loping canters across open plains. Camps are selected for their beautiful settings, some in traditional stock camps featuring huts, but often secluded bush camps maintained by Bogong Horseback Adventures. With swags rolled out dinner is prepared and enjoyed around a warming fire, with a cold beer, a local wine and a meal prepared from local fresh produce on the coals. All expeditions include a night before and a night after at Spring Spur, where you can join the family for a meal and enjoy your comfortable en-suite room.
DATES
Arrive on Tuesday, 9th January 2018 for a Wednesday morning departure finishing on Wednesday, 17th January 2018
INCLUSIONS
All admissions to Mittagundi Pioneer Festival and Bush Dance
Experienced, knowledgeable guides
Spring Spur accommodation before and after expedition
All group camping equipment
Quality locally bred and trained horses
Quality Australian saddlery
All meals as per the itinerary
Beer and table wine with evening meal
Helmets and oilskin coats
National Park fees
First aid and emergency communications
Packing lists and travel information
OPTIONS
Transfers to and from Albury NSW
ITINERARY
Day 1
Arrive at Spring Spur homestead afternoon/evening
Evening Supper - Spring Spur Accommodation
D - Spring Spur Stay


Day 2

Pre ride information, horsemanship basics in the yards at BHA and packing check. Journey along the East Kiewa track riding through tall eucalyptus forests layered with misty tree fern gullies and dry dogwood spurs into Bogong Creek Camp below Quartz Ridge.

B L D - Camping


Day 3

Climb through tall wollybutt forests and snowgums onto the Bogong High Plains via Big River. Ride across the herb fields of Spion Kopje and Mount Nelse and down to Cemetery Spur.

B L D - Camping


Day 4

Follow the the hand cut Track 107 down to Mittagundi. Put on your cleanest dirty shirt, polish your boots and find your dancing partner for a traditional Aussie bush dance at the Glen Wills Community Hall.

B L D - Camping


Day 5

A day off riding, to attend the annual Mittagundi Pioneer Festival. Traditional bush skills workshops ranging from leather work, blacksmith and pioneer carpentry. Explore the Mittagundi grounds - veggie garden, stables and traditional bush buildings. Get involved in a BHA packing demonstration.
In the evening pick a spot under a peppermint gum to enjoy a feast prepared in the Mittagundi bush kitchen, then dance off dessert with performances from two amazing singer song writers, Sally Dastey and Sal Kimber.

B L D - Camping


Day 6

We ascend Mount Bogong via the Long Spur, a full day of riding the ridge up to our camp below the tree line on near Cleve Cole Hut.

B L D - Camping


Day 7

We spend the day exploring Victoria's highest mountain, a ride out to Maddison's camp with a walk into Howman's Falls and out towards Horse Ridge to visit the Maddison Memorial. Return to our Mount Bogong camp for another night.

B L D - Camping


Day 8

Descend the legendary Eskdale Spur to the head of Mountain Creek and continue down the creek to Spring Spur Stables

B L D - Spring Spur Stay


Day 9

Mid morning checkout.

B